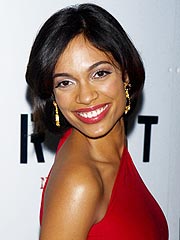 "I'm constantly telling girls all the time everything is airbrushed, everything is retouched to the point it's not even asked. None of us look like that. ... It's a form of violence in the way that we look at women and the way we expect them to look and be for what sake? Not for health, survival, not for enjoyment of life, but just so you could look pretty.
"
-Rosario Dawson in a
Shape
magazine interview.
She also told the mag that while filming Rent she kept getting compliments on how she looked although she was underweight to play a junkie with AIDS, and as she says, "I looked emaciated." I only saw Rent once so I really only vaguely remember her character singing that one song that every annoying musical-theater-girl-ever wants to sing all the time (the year of high school this movie came out was rough), but I am sure this is true. When Mila Kunis went down to 98 pounds for her role in Black Swan, she said, "I could see why this industry is so f****d up, because ... I would literally look at myself in the mirror and I was like, 'Oh my God!' I had no shape, no boobs, no ass ... all you saw was the bone. I was like, 'This looks gross.' In real life, I looked disgusting, but in photographs and on film, it looked amazing."
Actors and actresses lose and gain weight for specific roles, but do so under the watch of a doctor. Mila Kunis said that it only took her 5 days to gain the weight back that took her a couple months to lose. Actors and actresses are also so trim all the time because it is literally their job to look good. I'm sure I'd have a tight bod if I worked out for six hours a day, but that is ridiculous because I am a real person, and I have work and school and Netflix. However, I think there are strides being made in this modern fight against photoshop--
L'Oreal ads in the UK
with Julia Roberts and Christy Turlington were pulled after Britain's Advertising Standards Authority deemed them misleading. Good for you, UK!